About Us
Background
Founded in 2008, Moroka.30 is the brain child of director, Rob Fickling. Rob is a proud and patriotic hunter with a love of wild, remote places and in particular, backpack hunting. Creating Moroka.30 was a dream of Robs for many years, and he was persistent and determined to establish Australia's first dedicated hunting brand, catering specifically to the particular needs of our local hunters. While Australia has a unique & diverse landscape, anyone anywhere in the world seeking high quality gear that is innovative in design, while lightweight and durable, will find Moroka.30 hunting gear ideally suited to their purpose.
The Name
The Moroka.30 name stems from the Moroka wilderness area of the Victorian Alps, which is a Sambar deer heartland. Located within the magnificent Alpine National Park, the Moroka river flows through a vast area of steep, remote mountains where the only access is by foot. The ".30" is a dual reference to both the magical 30" antler length that is the benchmark of a mature trophy Sambar stag, and also a salutation to the large calibre rifles that are required to ethically harvest what is arguably the toughest, and most tenacious of all the deer species. Like much of the Alpine national Park, the Moroka Wilderness area is backpack hunting heaven, and a host of Moroka.30's unique designs have evolved from Robs many adventures into remote areas like these, both on home soil and abroad.
Our store
From humble beginnings as a purely online store only, the business has slowly grown, and with the determined efforts of director and staff, it has now expanded to a head office and retail store in Carrum Downs Victoria. Our retail premises proudly provide the only dedicated hunting gear store in the country. Customers are welcome to come and see all the gear in one place, try it on, test fit it, and talk to the guys who don't just sell it, but design it themselves from the ground up. You can see and feel our fabrics firsthand, and our expert staff can guide you through the design and manufacturing processes from start to finish that give our gear the edge over other mass produced mainstream products. Our retail store is beautifully fitted out and contains a world class display of game heads from around the globe. Customers often remark that it is one of the most welcoming and well fitted out hunting stores in the country.
The Moroka.30 difference
Whilst Australia has some amazing and world class hunting opportunities across vastly differing landscapes and terrain, sadly when it comes to hunting equipment and apparel, it is oversupplied by foreign companies and brands. Even with other local brands, our market can sometimes become the dumping ground of mass produced gear that is not designed for our climate or conditions and is simply "re-badged". With our core values of quality over quantity and innovation not imitation, it will always be the goal of Moroka.30 to design unique, functional and practical products, with a focus first on the needs of the Australian hunter. Moroka.30 is also the only company supplying the Australian hunting gear market that bears the Australian made logo. Wherever possible, we manufacture using local skills and labour and we have a host of products from clothing, through to bivvy bags, rainwear and gaiters that are 100% Australian made. Whilst it is inevitable that overseas manufacturing is required on certain lines, wherever possible we still export Australian raw materials to be used as components in our finished products, including locally manufactured webbing, threads, elastics, press studs and fixtures. Add in the end product of our customer service and it's easy to see firsthand, the Moroka.30 difference.
Our Staff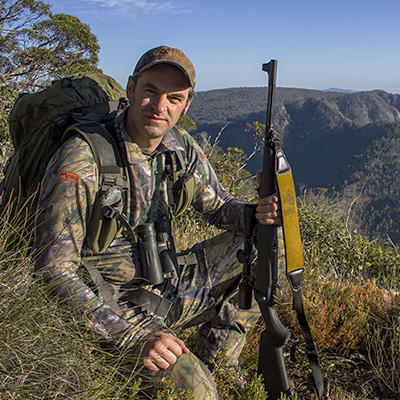 Rob Fickling - Director
As long as he can remember, Rob has been a keen hunter. His earliest hunting memories began with ferreting for rabbits, and shooting the ever wary Starling with his .177 air rifle. Toy guns, cowboys and Indians, home-made bows & arrows, these were all a big part of life for Rob growing up and I guess, well, some things never change! Rob's passion for hunting grew and grew and after years of hunting rabbit's, foxes, pigs and goats, Rob progressed to deer stalking and the passion went to the next level, with Sambar playing a big part of it.
With the taste for adventure, frequent self-guided adventures to the South Island of new Zealand followed, hunting Wapiti in Fiordland, Red deer in South Westland and Tahr and Chamois in the Alps. Along with an ever increasing desire to push further into the wilderness of his home turf looking for Sambar, his mind often focused on refining the gear and clothing necessary for such trips. Things started with simple customisation, then progressed to creating dedicated designs before he decided to go all in, and created and launched Moroka.30 online in 2008.
Robs goal with Moroka.30 is simple and never changes, and that is to create innovative, custom gear that Australian hunters will be proud of, can rely on and depend upon. Rob has an in depth knowledge of fabrics and textiles and is the creative designer behind Moroka.30 products, being hands on in every stage from design concept, to pattern making, prototyping, testing and production. He enthusiastically embraces every design challenge and loves to draw inspiration and nurture ideas from the hunting experiences of both staff and the many faithful Moroka.30 customers.
In recent years Rob has also taken his passion for Australian hunting and wild places to another level, creating Australia's first ever television hunting series, "Beyond The Divide". Rob's mind is never far from the Victorian high country and every chance he gets, he will be back up there, chasing that elusive big stag and working on a new bit of gear that will make things easier, better, more comfortable or more practical.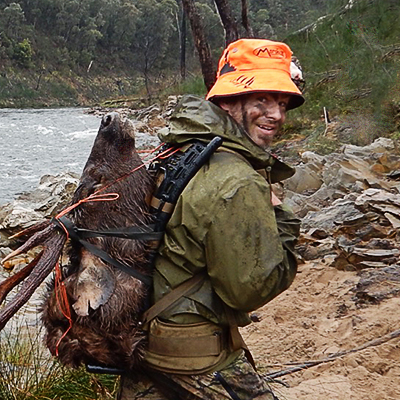 Daz Horkings - Sales Manager
Daz has had a passion for outdoor adventures for as long as he can remember.
A keen hunter over a variety of species with both bow & rifle, Daz is a well rounded hunter with intimate knowledge of our high country wilderness areas & draws on many years experience tracking down the elusive mighty Sambar.
A self confessed gear junkie, Daz is up to date with the latest news and equipment to help you have an edge on your next hunt.